Information
---
Big Ice -Impact Load Monitoring Project completed-
R.Rouvari Oy has developed an ice impact load monitoring system ICEMON and installed the system on Aframax size CO carriers to ensure safe operation with this size of the vessels on Arctic waters. The development work of wide scope was in close co-operation with Helsinki University of Technology (TKK) and the Arctic and Antarctic Research Institute (AARI) in St. Petersburg.
ICEMON ice impact load monitoring and HULLMOS® hull stress monitoring systems were integrated and installed onboard five Aframax crude oil tankers of Primorsk Shipping (Singapore) and Unicom Management Services (Cyprus). The five vessels are long-term chartered for Exxon Mobile in the Sakhalin-1 project. The extensive installation was in co-operation with Hyundai Heavy Industries during autumn 2005 and was successfully completed in December 2005, when the last of the vessels was delivered. The final icetrials are expected to be during winter seasons 2006-07.
---
Oil Spill Satellite Detection Trials
A relatively new area of activity, is that on oil detection satellite systems. A number of satellite trials, have been successfully completed using advanced satellite technology for the detection of oil spills. The use of such technology can be a more efficient and effective way of identifying ship polluters. However, both existing aerial surveillance and satellite surveillance will always have to work in tandem complementing each other. Ultimately one can envisage that an overall reduction, in the aerial surveillance flying hours will be possible, with correctly targeted satellite surveillance programmes.
Operational satellite surveillance is now up and running and, in particular, there has been a recent three month service provided by KSat in Tromso, Norway, which targeted the English Channel area. A total of 50 images have been captured by the Canadian developed Radarsat and the European Envisat satellites using synthetic aperture radar technology, flying at an altitude of 800 km.
Satellite Image of 'MV Selendang Ayu'
---
Port State Control (PSC) Inspection Guidelines MARPOL Annex VI
The MARPOL 73/78 Annex VI Regulations for the prevention of air pollution from ships will come into force on May 19, 2005. Draft guidelines have been produced for use by port state control officers in conjunction with MARPOL Annex VI and its associated NOx (nitrogen oxide) Technical Code,and are expected to be adopted in July 2005.
However, owners should be aware that there is a strong possibility that a port state control authority may start implementing the guidelines as soon as Annex VI comes into force in May 2005.

The guidelines include the following list of deficiencies, all of which are considered to be of such a serious nature that they may warrant the detention of a ship:
Absence of valid International Air Pollution Prevention Certificate (IAPP), Engine International Air Pollution Prevention Certificate (EIAPP) or technical files
A diesel engine with a power output of more than 130kW installed on board a ship constructed on or after January 1, 2000, or a diesel engine having undergone a major conversion on or after the same date, that does not comply with the NOx (nitrogen oxide) Technical Code
A sulphur content of any fuel used on board exceeding 4.5% m/m
Non-compliance with the relevant requirements while operating within a sulphur oxide (SOx) emission control area
An incinerator installed on board the ship on or after January 1, 2000 which does not comply with requirements contained in Appendix IV to the Annex, or the standard specifications for shipboard incinerators (Resolution MEPC.76(40) as amended by MEPC.93(45))
A master or crew unfamiliar with the necessary procedures regarding the operation of air pollution prevention equipment as defined within Annex VI
Annex VI applies to all ships of 400 gross tonnes (gt) and above. Flag administrations may, however, establish equivalent requirements for ships below 400 gt in order to meet the intention of the Annex.

---
2 ships collide and 1 sinks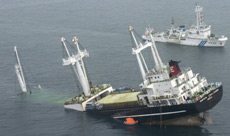 A Philippine-registered freighter sank after it collided with a Japanese cargo vessel near Tokyo Bay in heavy fog yesterday, but its 25 crew members all managed to escape to safety.
The 6,182-ton Eastern Challenger(image) began taking in water and sank at 12:07 p.m. (0307 GMT), about seven hours after colliding with the 498-ton Tsugaru-maru.
The freighter's 25 Filipino crew members were picked up by the coast guard after fleeing their sinking ship in life boats, all were unharmed and had been taken to Yokosuka port.
The five-member crew of the Tsugaru-maru were also unharmed. Visibility was about 150 meters (500 feet) at the time of the accident, but the cause of the collision is still under investigation.
The Eastern Challenger carrying steel products was on its way to Yokohama from a port in the Philippines via Japan's western port of Osaka. The Japanese ship was heading to Tomakomai on Japan's northern island of Hokkaido transporting animal feed.

---
You are here: Home-Information
Previous Topic: Sitemap Next Topic: Contact
---